IEEFA Report: As U.K. sheds coal by 2025, renewables and reliable generation can fill the gap
Posted on : 09 Mar 2017
March 9, 2017 (IEEFA) — The Institute for Energy Economics and Financial Analysis published a report today that describes a path by which renewable energy can reliably and economically replace coal-fired generation in the U.K.
The report—"Electricity-Grid Transition in the U.K.: As Coal-Fired Generation Recedes, Renewables and Reliable Generation Can Fill the Gap"—examines how recent market reform meant to encourage the growth of new-build reliable generation through a capacity market has for the most part failed.
On the bright side, a large pipeline of renewable power and interconnection projects are poised to lay the foundations for the future grid.
"The hope at the time of the reforms was that the introduction of capacity markets—mechanisms by which reliable generation is subsidized—would prepare the U.K. adequately for modernized energy security," said Gerard Wynn, a London-based IEEFA energy finance consultant and the author of the report. "So far, the effort has done little more than support the status quo."
Main findings of the report:
The U.K. electric grid today is coping successfully with a coal phase-out which is well under way and that is scheduled for completion by 2025. Last year, U.K. coal generation declined by 60%. The grid was resilient. National Grid, the transmission system operator, took no demand control action, issued only three alerts, and made no use of "last resort" standby power plants.
Grid security would be bolstered enormously if U.K. markets were to deliver on a large pipeline of renewable energy and interconnection projects. IEEFA sees renewable energy and interconnection forming the backbone of the U.K. grid in the medium and long term. IEEFA estimates that the combined total of new renewable and interconnection projects in the immediate pipeline or targeted will deliver more than 80 terawatt hours (TWh) of generation annually by 2025. For comparison, this amount exceeds the U.K.'s total nuclear generation today. Gains in demand reduction and efficiency would further enhance grid security.
Tight margins in supply and demand show that new reliable peaking generation is also needed, and it is far from certain that current capacity markets will provide it. While the goal of the capacity market was to drive investment in reliable new generation, the scheme—with £3.4 billion in awarded contracts to date—has yet to incentivise a single large new power plant. Support, instead, for existing generation is distorting energy markets and has subsidized outdated investment, including more than £450 million for existing coal-fired power plants. One alternative would be smaller, targeted capacity auctions for flexible, new-build generation, including gas peakers, demand-side response (DSR) and storage. This would reduce energy market distortion and consumer bills.
Wynn said the time was right for a new approach.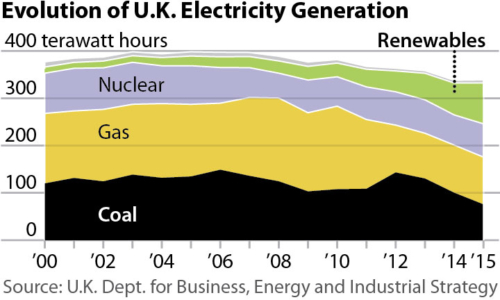 "The U.K.'s departure from the European Union may eliminate the need for EU approvals for more limited auctions that support certain technologies, such as battery storage, and for policies that eliminate aging forms of technology, such as coal-fired generation."
He said that efficient energy-only markets—as opposed to subsidized capacity markets— still have a place in the U.K. "This has been demonstrated in the U.S., where some electricity systems are delivering a rapid, low-carbon transition without the need for capacity markets. These competitive markets are successfully managing the transition from coal to renewables, while the number of scarcity hours has decreased dramatically."
Wynn said that the U.K. could improve its energy market through continuing reforms of the balancing market: "Such reform would bolster energy markets by strengthening the price signals that drive investment, driving market participants to invest in flexibility themselves — a more efficient approach —and thus help avoid the large-scale government intervention implied in the capacity market."
The reports concludes by encouraging the U.K. government to take three steps toward electricity-policy modernization:
"A strong first step would be for the U.K. to honor its commitment to fulfilling a project pipeline of renewable and especially offshore wind development, combined with a commitment to improve interconnection. Such projects would create a backbone for a new energy grid, and — supported by flexible generation, could replace a large portion of ageing baseload coal and nuclear generation."
"Second, the U.K. can repurpose its general capacity market to target new-build, flexible generation, including gas peakers, storage and DSR. Storage especially, may help solve the present conundrum of how to deliver unsubsidised renewables through energy markets. A strategic reserve of ageing power plants, which would otherwise be mothballed, could be retained, similar to that currently supplied by the Supplemental Balancing Reserve (SBR)."
"Third, continued reforms of the balancing market that pass on the full cost of matching demand and supply to market participants could strengthen price signals and support the energy only market. Reforms to the balancing market could extend to shortened settlement periods from 30 minutes to 15 minutes, following a trend already established in continental Europe."